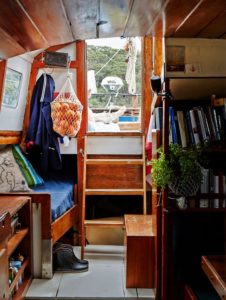 It may not be every seafarer's dream to set sail on a 64ft yacht, some prefer the simplicity and feel of a smaller vessel that gets them just that little bit more connected to the ocean around them. But the one thing most people do want is enough cabin storage space! If you have a smaller sailing boat you may get a little jealous when you see the spacious galleys of larger vessels and kitchens set up almost like that of a house. It can be a mission to constantly try and fit in all of the things you need for just a few days, let alone a few months on board. It's a good feeling to have things easily accessible so you are not constantly trying to rummage around underneath beds and seats just to get that bag of rice for dinner. Stress no longer small boat owners! Here are a few ideas that will help you get creative when it comes to your cabin storage. Simple little tips and tricks that will have you wondering why you hadn't already thought of that. Take a read below and see what you can implement into your cabin to make life on the seas just that little bit smoother.
Wall and Ceiling Space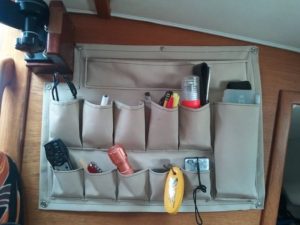 There are only so many cupboards and spaces under seats and beds that you can stow your things, that's why if you're in a small vessel it's a good idea to take advantage of your wall space to hold various thinner items that don't protrude too much. And don't forget your ceiling space. There are still things you can manage to fit that either sit flush along the ceiling or dangle down from the spaces where you don't generally stand.
Elastic Webbing
This netting it amazing and has so many uses. Easy to install, it's as simple as putting in four screws, and reasonably cheap, it's the perfect storage solution for tight spaces and a great way to make sure your things are secured if you hit high seas. Here are a few examples of it's uses.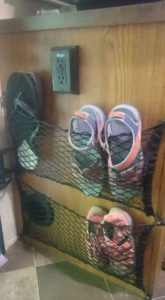 Shoe Storage
When you want to head into shore or you've come down to sleep after a long day on the deck you'll need somewhere easy to stow your shoes, on a ship it's not as simple as just leaving them by the front door. You need somewhere out of the way but still accessible. That's why using these elastic nets are perfect. You can screw them just inside your cabin entrance and they will be out of the way but so easy to find. Say goodbye to missing sandals. Using this netting will make sure you'll never have to misplace a shoe again.  If you have reef or weatherproof shoes that may be damp you can consider putting on of these netting up on the outside of your cabin too so you don't have to get the smell of damp through your cabin.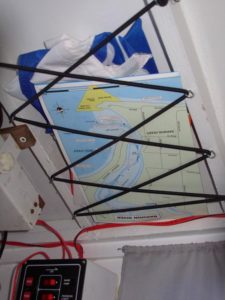 Elastic Cord
Another version of the webbing is the elastic cord. This is great because you can use it to fit the spaces you already have. By adding some easily screwable hoops you can look the webbing to side panels or even better, the ceiling, and make the most of every bit of space. Great for storing your charts and maps so they are out of the way but easy to grab. This elastic chord will keep things in place in the roughest seas.
Canvas Bags
Canvas bags are great because they are flexible and can be easily flattened out when you don't need them or squeezed into tight spaces to create an extra bit of room.  Here are a few clever ways to use them.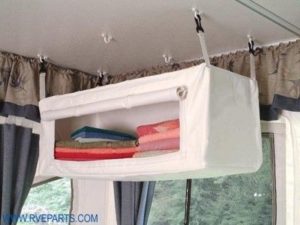 Roof Space
Again we are making the most of our roof space. Hanging canvas bags from the ceiling can be a great place to store clothing and make it easily accessible. Because you can use hooks to dangle it down it means you can easily take it off and stow it away if you hit rougher seas. It's a really nice and convenient way of being able to reach your clothes for those more cruisy journeys.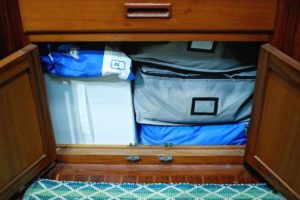 In the Cupboard
Cupboard space is always tight in a small vessel, but instead of trying to pile everything on top of each other so you end up with a landslide each time you open the door, try storing things in individual canvas bags. They will allow a little more space that draws as they are malleable and you can organize your things into groups and label them easily so you'll know which bag you need to pull out to access what you're looking for. They also have the extra feature of keeping things just a little more damp proof and protected if by any chance the cupboard door is flung open.
Fabric and Plastic storage racks
That nifty plastic shoe rack that entered our lives in the nineties has become somewhat of a legend for people who own small homes, campers or boats. So versatile, and easy to hang you can use them to store so many different things. There are a few variations of the old trusty plastic shoe rack now that back organization just that much easier.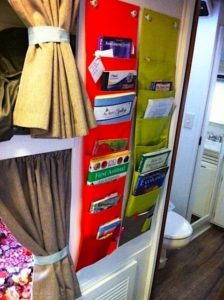 Hanging bookshelf
Onboard you'll have map books and manuals and hopefully some good works of fiction to help you relax on smooth sailing days. Storing them in draws can get messy and not to mention bulky. These fabulous hanging shelves are perfect to store your books in. Streamline to the wall they take up hardly any space and you won't have to dig through mountains of books just to find the one you are looking for. Easy to attach they hold a fair amount while still looking neat and tidy.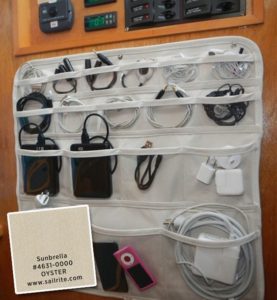 Electronics Holder
With so many different devices we now have both for entertainment and navigation and safety there needs to be a simple solution to storing all those annoying chords that come with it and our smaller devices in a way that is orderly. Well, we've found the perfect solution. This hanging rack features pockets of different sizes that are made of clear plastic so you'll know exactly what to grab, no labels or boxes within boxes needed. All laid out in front of you and so easy to stow your cords away without having to tie them all.
Kitchen Storage
Kitchen storage can be especially tricky on a small vessel. If you are out for months on end chances are you will be preparing more basic food, but it's still nice to have a clear area with more space to jazz things up a little. From dish racks to food storage, bellow is where you'll find the best tiny kitchen hacks going around.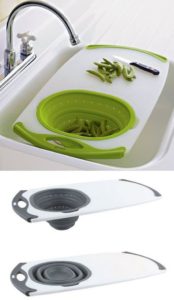 Chopping board/drainer
We are in love with this nifty invention. Such a great way to save on space for both storage and while you are preparing your meals. The chopping board sits over the sink to provide you with some extra bench space (because we know there's never enough of that on a boat!) While the strainer can be pushed flat or down as an easy way to drain veggies or pasta after cooking, or even for washing your salad in. The beauty of it is it drains straight into the sink and you don't have to worry able storing a strainer separately. When you're done just rine it off and push the strainer back in line with the board and you can stow it easily anywhere.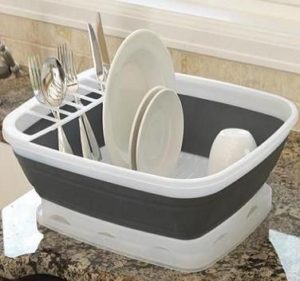 Foldable Dishrack
It's not always easy to dry the dishes as you go, especially if you're cooking on your own, and most dishracks take up a lot of space and are not that sturdy, things can often slip out with the motion of the sea underneath you. Introducing this amazing creation. Another foldable kitchen wonder. Because of its high sides, there is no worry about plates sliding out onto the floor if you hit a wave and it folds down to a small size that is easy to stow as soon as you've finished using it. A must for every vessel, big or small.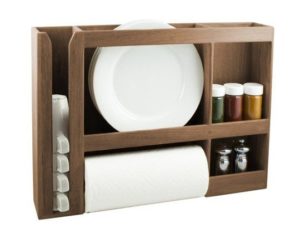 Plate Storage
On a ship you cant have plates stacked on top of each other that easily without them moving around constantly. An even hanging your cups from hooks will get annoying with them constantly banging together with rolling of the ocean. This rack can be mounted fairly easily on your sidewall and it a great way to store your cups, plates and even condiments in an accessible way. Simple to get out but tightly packed so they won't rattle around, it's also a pretty good looking little unit.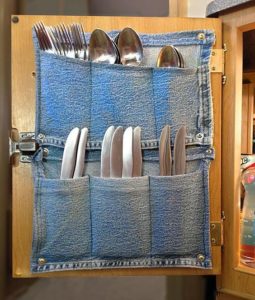 Cutlery Holders
This Idea blew our minds. So simple and an easy do it yourself project if you have a spare half hour. Sitting ticked away on the inside of a cupboard door you're maximising space that's for sure. Each utensil has its own pocket and again, won't rattle around so much in open seas. Attachable by screws the same way the elastic netting is. it's super easy to install and will keep everything nice and orderly.
Food Storage
On a smaller boat, you are not going to have a lot of bench space for fruit bowls or cupboard space to store all your food boxes. We've put together a few of the cleverest ways to stow food in a handy way that will minimise any chance of spillages and make the most of your small amount of space.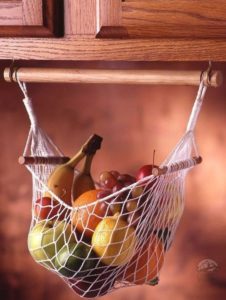 Hanging Cloth Baskets

These hanging baskets are the cheap and easy solution to fruit and veggie storage. The can fold away to practically nothing and can be stowed in a draw and then taken out when you call into port next and filled with all your fresh fruits and roots vegetables that don't need to be refrigerated. Depp enough so that your food is not going to tumble out even if they start to swing, they loop onto a wooden rail so if you don't already have one you may want to install one. ith a bit of doweling from your local hardware store and some hooks you can put on up in no time and then you'll always have the great option to put up these bags. and the rail can also double for a tea towel airer!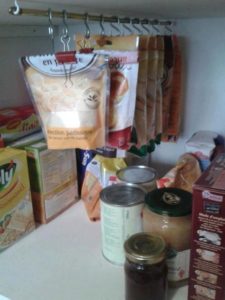 Foldback Clip Hanger
This is a genius idea of ways to store those small packets of things. Seasonings, herbs or soup mixes. Just make a small rail inside your cupboard and attach some S hooks to it, then use foldback clips to seal packets once opened and hang them easily from the hooks. This saves on space and also makes it so much easier to find what you're looking for.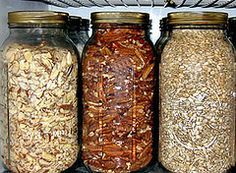 Jars and containers
It does not pay to keep all of your dry foods in their original packaging. Often the carboard boxes are far bigger than the actual product amount. This is where getting clear glass jars or plastic containers really makes a difference. Not only does it seal for freshness but it will save on space and make it much easier to find what you're looking for.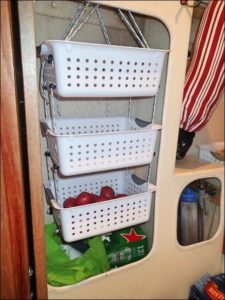 Basket Hanging Shelves
Sometimes in cabins, you have those awkward cupboard space that's you don't quite know what to do with. If you have a long cupboard without shelves it can often be a bit of a space waster as it's impossible to neatly stow everything on top of each other. That's why this having basket system is such a good idea. You can knock it up within an hour using some rope and baskets from a dollar store. This will provide you with some extra space to store fruits and veggies and is perfect for things like onions, garlic, and potatoes, keeping them out of the light and away from your other foods. And the best part is it's easy to take down if you ever do need the long hanging space!
Bathroom Storage
Sailboats so-called bathroom is one of the smallest places on the ship. With no big mirrored medicine cabinets to store first aid or lotions and potions and no bench space for your daily moisturizer, cleanser, or sunscreen, how do you store everything, not in a bottomless toiletries bag? We have a few ideas for you.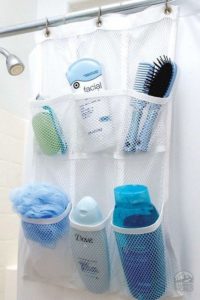 Hanging Toiletries rack
Another take on the plastic shoe rack, this netted toiletries rack can hang off your shower curtain. Because it made with a fabric mesh the water won't collect at the bottom of compartments and create slime. Easy to put all your soaps, shampoos and conditioners and even toothbrushes in. Again, because it has a seethrough design you won't have to scavenge and search for what you are after.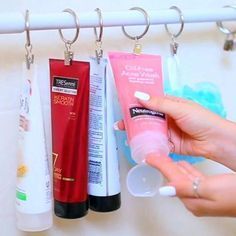 Metal Clips
Another very clever design we have come across is this hook system. Metal hoops with clips attached that slide easily along a hand towel rack or shower curtail rail are handy for your lotions and sunscreens. And easy to unhook when a tube is empty. We love this idea because you don't have to unhook anything just open the lid and squeeze out and everything stays right in its place with no mess!
Above Deck Storage
Now we know this post is mainly about getting things in order bellow deck, but we couldn't resist slipping in this one last above deck storage hack. It's the easy solution we've all been waiting for!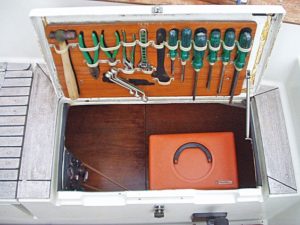 Tool Box Hack
A toolbox on a boat is essential, but finding a good place to store one where you can access the right tools quickly is another story. This is by far one of the best storage solutions we've seen. Creating a toolbox on the underneath of you hatch door!! You can firstly create this at home in the shed, just get a string piece of marine ply and measure it up to fit the inside of your chosen hatch. Then layout on the wood the essential tools you may need at quick notice.It can help to trace around them or stick them down with tape while you measure out how much elastic you will need and tack it into place. This can easily be done by yourself in less than a day and the finished product is a tidy toolbox that takes up next to no space and will save you still rooting around in your old chunky box trying to find what you need.
Think Creatively and get the most from your cabin space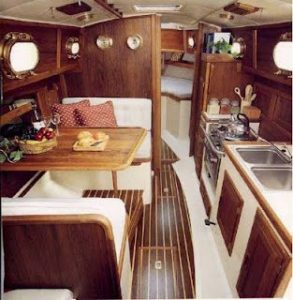 With small sailing boat storage, it's important to get as creative as you can. without creating clutter tries to think of every available space as a possible place for storage. Most of the solutions and ideas we have given you are cheap and easy to install. You don't need to have fancy new appliances to create the space you need. With some creative thinking and a trip or two to your local hardware store, you'll be able to create a cabin that is tidy, organized and accessible.