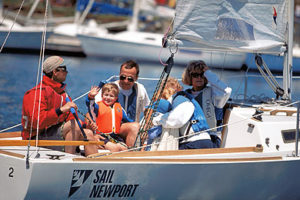 If you're a sailing enthusiast that also happens to have kids then your top priority will be their safety on board. You want to be able to spend days or even weeks out of the open sea and have your kids enjoy the feeling of being under full sail while also being able to concentrate on actually sailing and also enjoying the ride with out the constant worry of the, being in immediate danger. Of course as a parent you will always have a bit of worry and always instinctively be on the lookout for their safety but there are things you can do to really minimize the risk of accidents happening to give you more peace of mind and also to give the kids a bit more freedom.
The first thing we think about when we think water safety is of course life jackets. These are essential and worth investing in good quality and comfortable jackets that kids will not want to rip off, but there are also a lot of other products around to think about that can help your child stay on board and if worst comes to worst, be able to survive in the water while waiting to be rescued.
Bellow is a guide to some of the things we've found most useful when sailing with children.
On Deck Safety
Let's start by trying to keep your kids on the boat! Having a good tethering system is the best way to ensure your children can enjoy being up on the deck while you are sailing but also be safely away from edges and without risk of falling overboard.
Jacklines
Depending on your vessel you will have your own way of putting in a jackline. Many think the best way to put it on for children is straight down the middle and using a shorter tether to ensure they are at no risk of getting close enough to go over the sides. This can be tricky however when it comes to navigating the mast. You want to minimize unclipping as much as possible, so one suggestion we have heard is to create two jacklines down the center either side of the mast, this will give the children a little more freedom to get around without them having to clip and unclip to get around tricky areas.
Wichard LYF`Safe Jackline comes in a range of sizes to suit your vessel and can also be adjusted in size. It has an easy setup and can be fitted with almost every deck fastening. It features reflective stitching that is wonderful at night and the adjust casting has a special locking mechanism to prevent accidental webbing release. A great and lasting product.
Children's Harness
Now once you have your jackline in place you're going to need a harness and tether to keep your children in. It's important you choose a harness that fits correctly and is comfortable for your child.
The WEST MARINE Child's Safety Harness is perfect for young sailors. They have cut down on some of the hardware so that what they have is close to a weightless product but that can withstand a 1000lb pull on the chest strap. Using strong nylon Nexus webbing it is made to be worn tether forward while a cross back strap kept it firmly in place. There is the option on a between the legs strap which can help stabilize the harness.
Tethers
A good tether is also very important. The Wichard Proline Tether with a 1m 1 Clip and 1 Loop is our choice. This features a snap hook that can be used one-handed. It has an ErgoLock system where the snap hook automatically locks and closes with a wider opening so it's a lot easier for young hands to use.
They also have an interesting feature called Overload Indicator Stitching. This is stitching that shows where it is more used and when it should be replaced. This way you'll always know that your child's tether is in good working order.
Children's Lifejackets
When it comes to life jackets for children you really don't want something that will be too big and bulky. It a child can't move freely in their jacket then chances are they will take any opportunity to take it off. Lifejacket shopping is something you should really do with your children so they can try on different types and styles to see which one fits their size and body shape the best. Having said this, it is also an item where you cannot compromise on quality, so at the end of the day that will be your main focus. You need to consider the age of your child also, for preteens and teens you will not need as much neck support but for a smaller child, it's great to look into jackets with the neck support that can turn their face floating side up. These tend to be a bit bulkier but the extra safety feature can be worth it.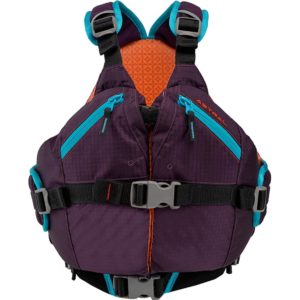 One that we love for kids in the older age bracket is Austral's Otter 2.0 Youth PDF. As well as being a safe and comfortable jacket is also environmentally friendly, using organic Kapok that is extremely buoyant as its fill. It's a great jacket that allows older kids a bit more room to move and comfort, so they won't mind keeping it on all day.
MOB Signaling Gear
As much as we don't want to think about worst-case scenarios it is something we have to prepare for. MOB (man overboard) signaling gear is something worth investing in and teaching your children how to use. To start with, never underestimate the simplicity of a whistle. A whistle does not rely on batteries and electronics, simply a child's blow. This can still be an effective and not too expensive piece of safety gear. A floating knife for older children can also be something that comes in handy for having to cut their way out of and ropes that may be surrounding them or tying them down. Not a nice thought, but like I said, we need to think about worst-case scenarios.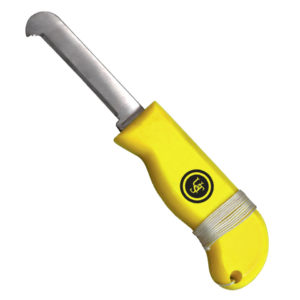 You can also get Man Overboard gear that can transmit signals containing your position and ID via an Automatic Identification System. The McMurdo SmartFind S20 AIS MOB id one such device. It is designed to be fitted to lifejackets and manually activated but there is also the option to get it properly fitted with an inflatable jacket so that when the jacket is inflated it automatically sends out your signal. It also has a flashing LED light on it that makes it easier to spot your child. These devices while expensive, should not be overlooked. As much as we can plan for good weather and calm seas we are still at the mercy of nature and need to be as best prepared as we can be.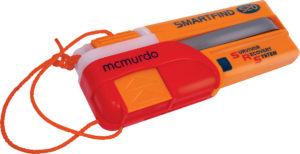 Teaching safety
You can have all of the right equipment and have your children in lifejackets 24/7 but the most vital thing you should be doing before taking them out of the water is teaching them the importance of safety. Swimming lessons are a great place to start. These days there are swimming lessons even for babies! So there really is no excuse to not have your children learning how to swim from an early age. Having them familiar with the water can help them to not panic in a dangerous situation and of course, help them stay alive. If they are only having lessons in a pool it could be a great idea to also take them to the ocean and get them swimming in different kinds of water. Getting familiar with being in waves can really help them navigate rough water. Also giving kids lessons about currents and rips will help them in knowing the dangers that they can face in the water and have the confidence to stay calm because they know what to do.
Being able to have full command of your kids on the ship is also of utmost importance. Your children should know that when you give a command it should be followed immediately because it is for their own safety. If your children can't obey orders then consider not taking them out on voyages until they can. If you are preparing for a big trip, or even just, in general, it can be a good idea to run through some safety drill with your children first, do some role-playing and help prepare them as best as you can for what can happen in an emergency and how to deal with it. Showing them things like how to radio for help could be a life-saving skill.
Sail with Peace of mind
Once you do have your kids and yourself kitted out with safety gear you'll find the whole experience a lot more relaxing. Knowing that you have taken all the precautions you can for the safety of your children will be a weight off your shoulders and help seriously reduce the risks of dangers and heighten the likelihood of survival if things do become out of your control. Now all that is left to do is enjoy the amazing feeling of being out of the water with your family.